There are some things we may not want to look at. Drawings of dismembered children. Drawings of those children being sexually abused. Monsters ruining Christmas by sucking a family's innards out. 
In 1994 those drawings and others gave Pinellas County an unhappy first – the only trial which convicted a comic book artist of 'artistic obscenity' in the US. Michael Diana, then a 24 year old Largo resident, was jailed for drawing comics. 
Diana drew comics through middle and high school, influenced both by the underground 'zines he discovered and the Dali Museum, which opened just when he hit his teens. He had far-flung subscribers to his dystopian releases and didn't do much locally. His comics railed against the Catholic Church, local law enforcement, and the institutions Diana saw as hypocritical and suffocating.
Then, everything went wrong, Diana said in the fundraising video for The Trial of Mike Diana. This is a documentary by filmmaker Frank Henenlotter completed in 2018.
Somebody needed a scapegoat
The semester had just begun in Gainesville's hot, humid August,1990 when the murders of five women terrified students and their parents. Less than a month later Danny Rolling was arrested for burglary, and eventually confessed to those murders and more. 
Among Rolling's possessions were underground comics. The atmosphere of fear had not abated with his arrest. 0ften when there is unfocused fear, a scapegoat is found.
"I first got in trouble with the law with Boiled Angel #6. A reader sent it to the Florida police, thinking that I was maybe the Gainesville student murderer, who was still at large." said Mike Diana, in an interview at that time.
The police found him, but cleared him of anything connected to the Gainesville crimes. 
Pretending to be a fan, one of those police officers wrote Diana, posing as a fellow artist (and, Diana says, repeatedly writing that he was 'not a cop'), asking Diana to send him his comics, especially the Boiled Angel series. Diana did, and they were forwarded to the state attorney's office. Two years later, an assistant state attorney came across the files, and decided to prosecute.
The First Amendment takes a blow
While there were pockets of hip happening around Pinellas at the time, it was still a fairly conservative place. Tampa was where you went for crazy fun. Tampa had internationally famous strip clubs, many owned by Joe Redner. And Joe Redner was protected and counseled by Luke Lirot, attorney at law. Redner and Lirot were well known  in Tampa as First Amendment defenders.
When Mike Diana's legal troubles became clear, he contacted the Comic Book Defense Fund, which put him in touch with Lirot. After their bids to have the charges dismissed because of entrapment, or getting the venue changed to Tampa failed, the trial proceeded. Due process took hit number one.
The atmosphere of the courtroom was intense, with protestors, television crews, thrill seekers and a quiet, shy cartoonist blindsided by events, holding a stack of comics, sitting still, head down, in the middle of it all. 
Diana was not allowed to enter his other drawings, or the work of other underground artists, as evidence. Prosecutors told the jury he was a suspect in the Gainesville murders, even though that had been the most tenuous thread. The jury was told that his drawings could make killers out of damaged people, even if Diana wasn't a potential murderer. His comics weren't protected speech or anti-authoritarian, prosecutors said, they were obscene. 
The jury found him guilty in 90 minutes of 3 misdemeanor counts; publishing, distributing, and advertising obscene material.
Freedom of speech or of the press? Not in this case. But it got even more obscene.
Mike Diana could have been sentenced to jail time (he did spend the time between conviction and sentencing in jail without bond), for drawing comics. He was instead sentenced to three years probation, one for each guilty count. He was court ordered to get a psychological evaluation; take a journalism ethics class; pay a $3,000 fine; three years of community service; and ordered to stay away from anyone under the age of 18. 
Added cruelty
And most troubling of all, he was ordered to cease drawing. No drawing. Not for personal use. Not for commercial use. Police and probation officers would be allowed to randomly (without a warrant, common for people on probation) search his home to see if there were any drawings. The judge gave him a list of allowable art supplies. First amendment scholars would call that prior restraint.
Diana's case was appealed twice to Florida's appellate court. Due process had another body blow. According to the Comic Book Legal Defense Fund, the court rejected an amicus brief from the ACLU. In addition, the State was allowed to introduce evidence developed after the first trial, an unusual move in the appellate process. 
The appellate court upheld two of the three convictions, overturning the one for advertising obscene materials. That charge was based on a line in Boiled Angel #7, telling readers to "be on the lookout for next issue #8". The court held since the material wasn't yet created, it couldn't be advertising obscenity.
Lirot and Diana sent their appeal to the Supreme Court, with the help of George Rahdert, an attorney in St. Petersburg who represented the then St. Petersburg Times, and had argued in front of the Supreme Court a few times. Their case was turned down. 
Mike Diana moved to New York as soon as he possibly could, and worked on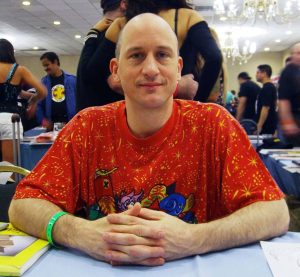 his probation requirements there. He still draws. He remains the only cartoonist convicted of "artistic obscenity" in the United States. Throughout his interactions with the justice system, due process was sidelined.